Cabo Roig Holidays
If you are looking at heading to Spain and are in search of a beach vacation, then Cabo Roig on the Costa Blanca may perhaps be precisely the spot for you. Friendly people, great beaches, good entertainment and fantastic weather makes this a prime location for your holiday.
Cabo Roig Map: If you have not visited the area before, you may well be wondering exactly where Cabo Roig is, because it is not one of the well known Spanish resorts such as Benidorm or Alicante, in fact it is just a small resort located in an even lesser known area called the Orihuela Costa. It is however fairly easy to reach and can be accessed from either of two good airports.
Driving to it is not a problem either as it is just off a major motoway and also located right upon the main coastal road for the region (the N332). I have embedded a Google map here for you so that you can see exactly where it is and what is around it, the map might not be adequate for planning your route but you can easily click on the "View on Google Maps" link to see a bigger version.
Cabo Roig originally grew up surrounding an aged watchtower (there are numerous along the Orihuela Costa shoreline) and they were established to look out for attacks by Barbary pirates during the 14th to 16th centuries, the ancient tower is, these days, adjoined to a cafe/restaurant complex which enjoys views across the newly updated port and is a terrific place to enjoy a refreshment, a fresh seafood meal, and look out on the vibrant blue Mediterranean Sea. There are many spectacular views along the coast to La Manga del Mar Menor, Campoamor and Torre de la Horadada.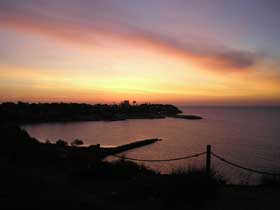 Local Beaches: Cabo Roig has wwo splendid "blue flag" beach locations (Cala Caleta and Cala Capitan) and is furthermore within easy reach of alternative beaches at Aguamarina, La Zenia, Playa Flamenca, Mil Palmeras and Dehesa de Campoamor. If you are holidaying in Cabo Roig you will find it rewarding to enjoy a journey down to the exceptional beach locations of the Mar Menor (in the Murcia region but only a short drive), you are best advised to go to Lo Pagan which is well signposted and has a tremendous beach together with being the location of the renowned healing mud baths, where countless numbers of visitors try out the therapeutic and healing effects of the (somewhat smelly) mud, reputedly excellent for ailments of the skin and joints, and the equivalent to a face mud-pack in your local beauty salon, but free!
Walking and Watersports: There is a smashing clifftop walkway from Cabo Roig beach to La Zenia beach and there are plenty of tranquil bays where you could enjoy the sunshine with little company, even in busy summer season periods, when the main beach can get very packed. If you choose to catch something a little more exciting than just the sun, the fishing is likewise splendid and the dorada especially provide a fine fight on light tackle. The water is lucid and suitable for diving, snorkelling and spearing fish. Naturally jet skiing, sailing and windsurfing and additionally boat-hire are other most popular activities on offer in the area, you could also hire a kayak or a pedalo, or maybe have fun on the banana boat ride.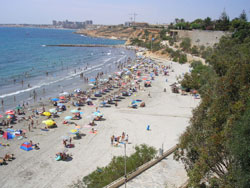 The Climate: On a family holiday to Cabo Roig you can normally count on fantastic weather conditions, this stretch of the Costa Blanca in Spain coast experiences its individual micro-climate and is, in essence, recognised as being one of the healthiest places in the entire world to reside. Cabo Roig, Costa Blanca is blessed with in excess of 300 sunny days each and every year, and experiences a typical temperature of twenty degrees centigrade, throughout any 12 month period. Wet weather is exceptional and is mostly experienced in the course of the winter time, but don't be surprised to encounter a heavy deluge in late August or early September, when, just after some weeks of scorching hot sunny weather, the odd thundery storm is not at all unusual, don't worry it will clear over in a few hours. Temperatures all through the summertime may easily reach at least 40 degrees centigrade nonetheless frequently Cabo Roig and the Orihuela Costa boasts a cooling sea wind, to make things pleasant whenever you choose to visit.
The Famous Strip: The ever acclaimed and ever changing Cabo Roig (Aguamarina) "strip" incorporates a large assortment of restaurants, bars and shops, and offers something to suit every individual taste. New business units are opening up on a regular basis, and other changing hands, and this can only be positive for the holidaymaker, as ever expanding choices are presented to even the most regular visitor.
Stuff to Do and Places to Visit: The range of activities you can do in and close to Cabo Roig is limitless, here are just a couple of handy tips to bear in mind - make a journey to the nearby resort of Torrevieja and check out the huge Friday street market (the largest in the area), in the afternoon, when you have finished browsing, take the kids into the Aqua Splash park (Aquopolis) featuring gigantic water rides, fun slides and lovely BBQ and recreational areas.
Go to one of the medieval Spanish cities along the coast, choose from Cartagena, Alicante, Murcia, Orihuela or Elche - all feature a good selection of sites that will be definitely worth a look.
Have a shot at the Go-Karts at Punta Prima, fun for kids and grownups, or check out the closest circus - there are several you could choose through the busy summer months. There is also paintballing at Punta Prima and a children's mini-funfair with giant bouncy castles and fun rides and games.
That's all you need to know really about Cabo Roig, the diamond of the Costa Blanca, the sea side resort with something special for the whole family. You will of course find out much more during your visit and please tell your friends about this lesser known resort with lots to offer. If you haven't visited yet, be sure you drop by sometime really soon.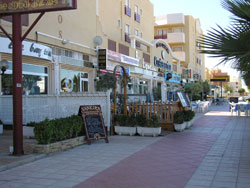 Hotels and Accommodation: There are plenty of privately owned villas and apartments available for rent in the Cabo Roig area, but a definite shortage of hotel style accommodation. There are a couple of apathotels at the back of the strip, but the only traditional style hotel is in La Zenia, about half a mile down the road.
Cabo Roig is set in the ideal area near to the AP-7 autopista & within an easy drive of both Alicante & Murcia airports.
Whenever arriving by way of Alicante, jump off on junction 763 (La Zenia), whenever visiting via the Murcia direction, leave at junction 768 (Dehesa de Campoamor). You'll soon discover Cabo Roig on the N-332 coast route (watch out for the pyramid roundabout - you can't miss it).
So if you are planning a visit to the beautiful Spanish resort of Cabo Roig sometime soon, we will be pleased to welcome you.
I shall be adding lots more pages of useful information for Cabo Roig shortly, so call back soon.
---